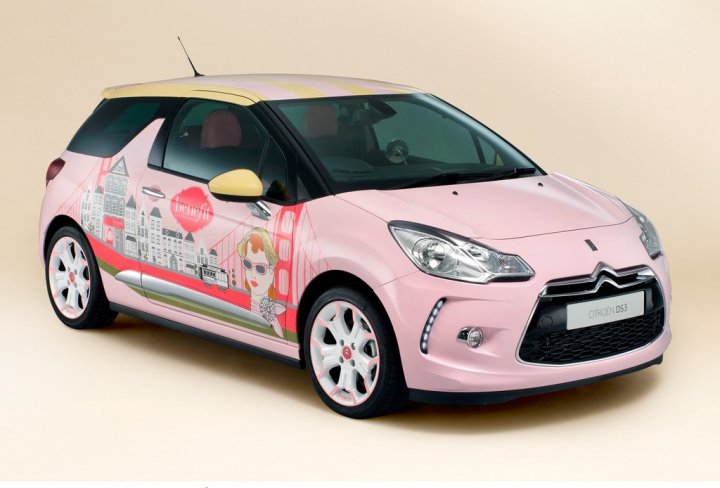 Citroen DS3 – Citroen UK e Benefit Cosmetics hanno collaborato per realizzare una versione, concept, della DS3 chiamata "DS3 by Benefit". La vettura è basata sulla DSport con motore da 155 cavalli ed è esposta al Clothes Show Live di Birmingham (che si conclude oggi) di cui Citroen è main sponsor.
Esteriormente la DS3 by Benefit è caratterizzata da una colorazione rosa e gialla con lo skyline di San Francisco, casa "spirituale" della Benefit, come elemento caratterizzante le fiancate. I cerchi in lega color bianco e rosa hanno il logo della società di cosmetici. Anche gli interni sono stati personalizzati con gli stessi colori e realizzati in pelle italiana; elementi rosa sono presenti anche sullo sterzo, cruscotto e console centrale. Il bracciolo è stato trasformato per ospitare un kit da trucco che contiene una selezione dei prodotti della Benefit. Altri elementi puramente femminili, sono stati integrati, come il gancio porta borsa, un dispenser per il profumo, uno specchio e dei comodi cuscini nel "divanetto" posteriore..
English Version: Citroën UK and Benefit Cosmetics have collaborated on a one-off version of Citroën's DS3. Called DS3 by Benefit, the colourful model is an exploration of ideas and themes in a unique concept form, which marks the start of a new partnership between the two brands.
DS3 by Benefit is based on a range-topping DSport powered by Citroën's sporty THP 155 engine. On the exterior, the concept uses colours from the Benefit palette with the brand's signature pink and yellow 'Candy Stripes' motif and a graphic of the San Francisco skyline – Benefit's spiritual home – along the side profile. The stylish alloy wheels are detailed in white and pink with the Benefit logo on the wheel rims, alongside the Citroën chevron centre caps. The yellow wing mirrors offset the pink body, with the floating roof sporting the pink and yellow 'Candy Stripes' pattern.
The interior has been reupholstered in fine Italian leather with the Candy Stripe design on the seats, headrests and parcel shelf. Pink detailing features throughout, such as on the steering wheel, dashboard and centre console. There is also a 'hello gorgeous' graphic on the passenger side of the dashboard.
Bespoke LED lighting, luxurious deep pile floor mats with pink leather edging and Benefit 'Iconic words of wisdom' scatter cushions add to the custom features and the armrest has even been converted to house a custom makeup kit containing a selection of Benefit products.
Other smart touches include a handbag hook, fragrance dispenser, and an ornate vanity mirror emerging from the dashboard.