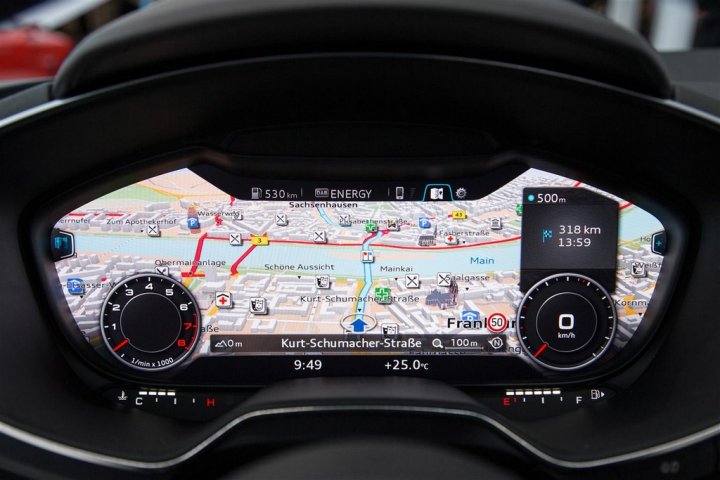 Audi TT Virtual Cockpit – Audi anticipa al CES di Las Vegas le linee degli interni della nuova TT e quale miglior posto se non la "fiera" più importante al mondo per l'elettronica di consumo per presentarlo. Che collegamento c'è tra gli interni della nuova TT e l'elettronica? Semplice il cruscotto o meglio il virtual cockpit Audi, presentato per la prima volta su un modello si serie.
Il pannello strumenti completamente digitale mostra tutte le informazioni direttamente davanti a chi guida, rendendo quindi superfluo un monitor normalmente posizionato parte centrale del cruscotto. Questa soluzione ha dato ai designer la libertà di assottigliare l'architettura del pannello strumenti, in modo che anch'esso richiami visivamente i principi della costruzione leggera Audi. Grazie a una brillante grafica dagli effetti 3D precisa anche nei dettagli, il virtual cockpit Audi con chip Nvidia's Tegra 3, sfrutta un monitor da 12,3 pollici che stabilisce nuovi standard. Il conducente può scegliere tra due modalità di visualizzazione. Nella visualizzazione classica, tachimetro e contagiri sono in primo piano, mentre nella modalità infotainment questi strumenti virtuali sono più piccoli. In questo modo rimane più spazio per visualizzare altre funzioni, quali la mappa di navigazione.
Il software e l'hardware sono stati sviluppati in partnership con la Nvidia. Il menu è stato pensato per essere simile a quelli degli smartphone e comandabile con pochi click direttamente dal volante. La collaborazoine tra le due case porterà anche al lancio di un tablet per auto per permettere di connettere le diverse opzioni dell'auto anche ai passeggeri e ad esempio sfruttara la connessione ad internet della vettura stessa.
Oltre a questo gli interni sono stati completamente ridisegnati con linee e soluzioni che prese in prestito dal settore areonautico. Tutti gli elementi della nuova Audi TT sono focalizzati attorno al conducente a partire dal volante multifunzione con pulsanti e controlli sulle razze che permettono di controllare quasi tutte le funzioni disponibili, incluso il sistema ultra-moderno di intotainment. Interessante la soluzione sulle bocchette dell'aria che includono un piccolo display per impostare la temperatura.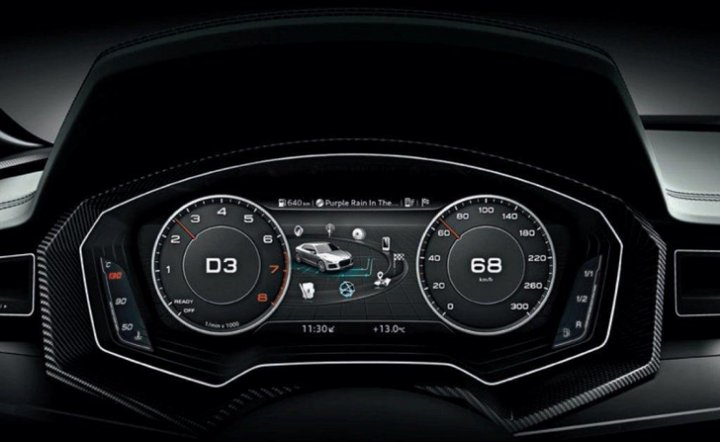 fonte foto e video: www.pocket-lint.com
English Version: As Prof. Dr. Ulrich Hackenberg, Member of the Board of Management of AUDI AG for Technical Development says, "The first Audi TT was the design icon per se, the second generation was even sportier, right through to the TT RS plus with its five-cylinder TFSI and 360 hp. And with the new Audi TT, the driver will be able to experience the technology to an even greater extent – just as would be expected from a genuine sports car. And it comes with a new generation of electronics and connectivity features."
For this reason, the Audi virtual cockpit is the focus of attention for the first time in one of the brand's production models. The fully digital instrument cluster displays all the information directly in front of the driver, meaning that there is no need for a central MMI monitor. This solution gave the designers the freedom to slim down the instrument panel architecture such that it visually conveys the Audi lightweight construction principle.
With its clear lines and innovative operation, the interior of the next TT generation has been redesigned from the ground up. From above, the instrument panel resembles an airplane wing; set low and with a turbine look about them, the round air nozzles, a classic TT feature, are reminiscent of jet engines. The controls for the air conditioning are also housed in the vents – the adjustment functions for seat heating, and for the temperature, direction and strength of the flow of air are located in their axes, with small displays indicating the chosen setting. Located beneath the central air nozzles, the switches for the hazard warning light and the secondary functions are centrally positioned and easily accessible.
With its brilliant graphics with a 3D impression and highly-detailed effects, the Audi virtual cockpit with its 12.3-inch TFT monitor sets new standards. Drivers can switch between two display modes. In the classic view, the speedometer and rev counter are in the foreground, while in "infotainment" mode, the virtual instruments are smaller. The space that is then created offers ample display space for functions such as the navigation map.
All elements of the new Audi TT operating concept are focused on the driver. The compact sports car's new multifunction steering wheel features a flat-bottomed rim, with aluminum-look clips framing its spokes. The buttons and controls on the spokes allow you to control almost all functions, including the ultra-modern infotainment system. The menu is structured to reflect that of a smartphone and includes a full-text search function (MMI search). All the main functions are just a few clicks away – the entire operation superbly conveys a new kind of "joy of use". The MMI terminal on the center tunnel console, the second control unit alongside the steering wheel, has also been exhaustively redeveloped. Thanks to the MMI touch, the driver can scroll and zoom in lists and on maps. And accessing other options has been simplified; in future this will be possible using just two rather than four buttons in the area surrounding the rotary pushbutton.