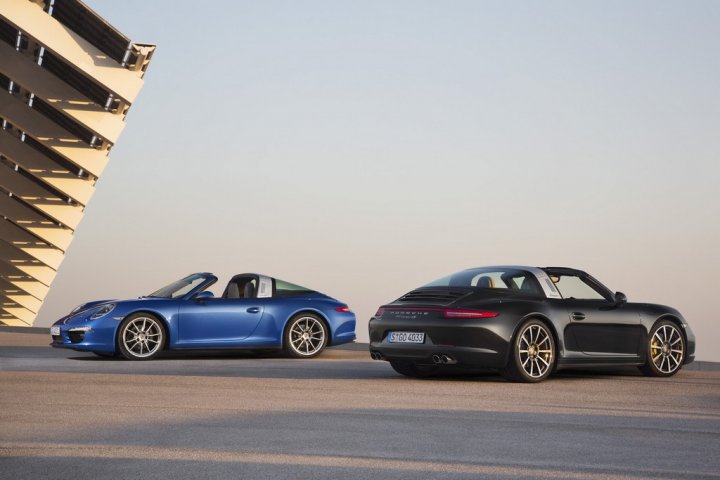 Porsche 911 Targa – Porsche scegli il salone di Detroit per presentare la 911 Targa, un mix tra la classica Targa con le nuove tecnologie in fatto di tetto. Come la versione tradizionale la parte centrale del tetto può essere "rimossa" semplicemente schiacciando un bottone.
La prima versione entrava in produzione nel gennaio del 67 e montava un motore 4 cilindri da 130 cavalli che diventavano 160 nella versione S. Le linee ricordano immediatamente quella Targa con il lunotto posteriore curvo, alto che ricorda le forme della coupé. Gli interni sono eleganti e sportivi, da ammirare soprattutto senza tettuccio.
Due le versioni, entrambe a 4 ruote motrici e certificate EURO6:
– Porsche 911 Targa 4 con motore 3.4 litri da 350 cavalli con cambio automatico a doppia frizione Porsche (PDK) che tocca i 100 Km/h in soli 4,8 secondi e la velocità massima di 282 Km/h (con Sport Chrono Pack), con consumi compresi tra 9,5 e 8,7 litri per 100 Km (emissioni di CO2 tra 223 e 204 g/Km);
– Porsche 911 Targa 4S con motore 3.8 litri da 400 cavalli, velocità massima di 296 Km/h e tempo da 0 a 100 di 4,4 secondi; consumi tra 9,2 e 10 litri per 100 Km e CO2 compresa tra 237 e 214.
La nuova 911 Targa verrà messa sul mercato a partire da Maggio 2014, con prezzi di circa 110.000 euro per la Targa 4 e 124.000 per la Targa 4S.
English Version: World premiere of the 911 Targa: At the North American International Auto Show (NAIAS) in Detroit, Porsche is presenting the latest generation of the extravagant 911 model to the public. This model is the first to combine the classic Targa concept with state-of-the-art roof technology. Just like the legendary original Targa model, the new model features the characteristic wide bar in place of the B-pillars, a movable roof section above the front seats and a wraparound rear window with no C-pillar. But unlike the classic models, the roof segment on the new Targa can be opened and closed at the push of a button.
As with the predecessor model, the new Targa generation comes in two versions available exclusively with all-wheel drive. The 911 Targa 4 is powered by a 3.4-litre, 350 hp (257 kW) flat engine. Equipped with the Porsche Doppelkupplung (PDK) and Sport Chrono package, this model accelerates from zero to 100 km/h in just 4.8 seconds and boasts a top speed of 282 km/h. Its NEDC fuel consumption figures are between 9.5 and 8.7 litres/100 km, depending on transmission, which corresponds to a CO2 emissions level of between 223 and 204 g/km. The top model is the 911 Targa 4S, which delivers 400 hp (294 kW) from a displacement of 3.8 litres. This model reaches a top speed of 296 km/h and, with the PDK and Sport Chrono package fitted, accelerates in 4.4 seconds. Its fuel consumption fluctuates between 10.0 and 9.2 litres per 100 km, depending on transmission, which corresponds to a CO2 level of between 237 and 214 g/km. With these figures, the model is on a par with the high standard set by the 911 Carrera 4 cabriolet models in terms of engine and road performance, as well as efficiency. Both sportscars are certified for compliance with the Euro 6 emissions standard.
The new 911 Targa models will be launched onto the market in May 2014. In Germany, the 911 Targa costs EUR 109,338 and the 911 Targa S EUR 124,094, inclusive of VAT and country-specific equipment in each case.